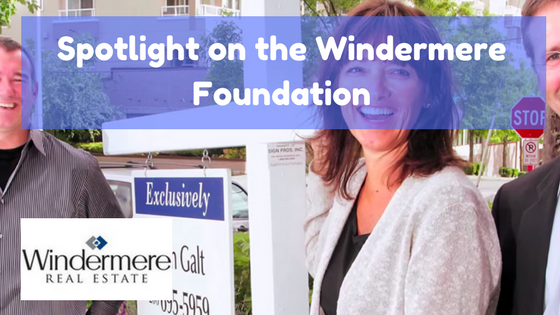 The Windermere Foundation was created to help support low-income and homeless families within our communities. We started as a grass-root foundation based in Washington State in 1989 and have continued to grow with each passing year. We are now active in 10 states across the United States and have raised an astounding $33 million dollars in support for our partner programs and organizations. We have been able to help more people than we ever imagined and it is all attributed to our incredible Windermere agents, employees, and community members.
How do we do what we do?
Our incredible Windermere Real Estate agents donate a portion of their commissions for every home that they sell to our non-profit Windermere Foundation. Every single agent participates in this give back program as well as many of our other employees and members in our communities. In 2016 alone our supporters were able to raise $2.2 million dollars! These donations are utilized by our individual offices to support local non-profits with in their communities. By allowing our offices to choose which organizations they help, their specific communities are able to receive the type of support that they need most and our agents become increasingly more committed to their cause.
Who do we help?
The Windermere Foundation helps support a large variety of programs and services. These services are focused on assisting low-income and homeless families to improve their quality of life and get back on their feet again. Families are able to receive support for basic human needs like food and clothing, but also for housing, education, counseling, and school programs. Our goal has always been to improve the quality of life for families and help their children grow up with opportunities for success.
Practical ways that our offices support their communities include donating to food banks, providing school supplies for students, donating clothing, shoes, and blankets to keep warm in the winter, and even fulfilling wishes through Make-A-Wish programs. Additionally this year we began a new partnership with the Seattle Seahawks to support homeless youth. For every home game tackle the Seahawks made during the 2016 football season, Windermere donated $100 to YouthCare. YouthCare is a non-profit organization that provides necessary needs for our homeless youth. This partnership resulted in an impressive $35,000 of financial support for YouthCare at the end of the season!
We will continue to partner with successful local non-profits in our communities and support our families in every way we can. It has been an honor to watch so many lives be positively impacted over the past 27 years and hope to continue to do so for at least another 27 years to come!
Check out our blog for more tips or contact us for advice:
Windermere Metro Denver Real Estate