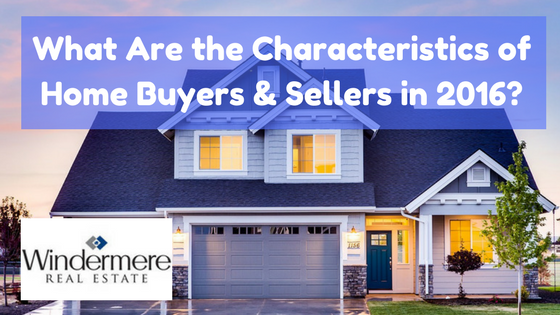 The National Association of Realtors® recently published their annual profile of home buyers and sellers from 2016. The information may surprise you.
Home Buyers
First-time home buyers made up 35 percent of all purchases, three percent higher than 2015's near all-time low. For the third year in a row, the average buyer was 44 years old. Single females (17 percent) buying homes averaged out more than single males and unmarried couples combined.
Homes Purchased
The average distance between where a purchaser lived and the home they bought was 12 miles. Eighty-six percent of them previously owned homes while new home buyers hit 14 percent. The most important environmental features (at 84 percent) in recent purchases included heating and cooling costs.
Home Search Process
Seventeen percent of buyers first contacted a real estate agent while 44 percent went online to look at properties for sale. It took, on average, 10 homes in 10 weeks before they settled on the one they wanted.
The most important details for online searches were detailed information and photos. Eighty-nine percent found photos useful and 85 percent found the information supplied to be very useful.
Home Buying and Real Estate Professionals
Eighty-eight percent of buyers chose to go through a real estate agent or broker while six percent were direct buys from the seller. The most common connection was by referral, with a friend, neighbor, or relative as the most common third parties. Seven in 10 buyers interviewed only one realtor during their search.
Home Sellers
Sellers lived in their homes for 10 years on average before selling, up from nine years in the previous report. Eighty-nine percent of them worked with real estate agents to sell their home, and their final sales price was an average of 98 percent of their final listing price.
Home Selling and Real Estate Professionals
Sixty-four percent of sellers found their agent through referrals from friends, neighbors, or relatives. Of those polled, 85 percent said they would definitely recommend their agent for future services.
The Takeaway
The more information you can provide on a listing, the more likely it will be to gain traction. Photos and detailed information are keys to success. Sellers are hanging on to their homes for longer, and buyers are staying close to their current living spaces. Most business connections are made via referrals, so putting your best foot forward will make all the difference in future sales.
Check out our blog for more tips or contact us for advice:
Windermere Metro Denver Real Estate