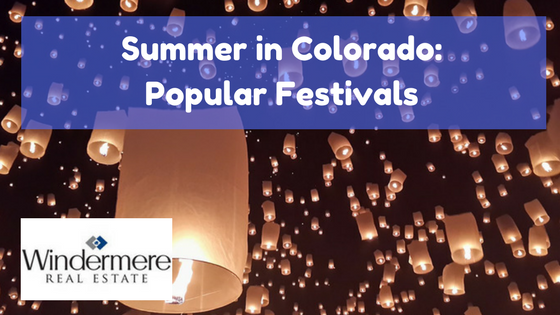 While winter in Colorado bring the skiing tourists, Colorado summers bring the festival goers. Whether you are a long time resident, a newcomer, or a visitor, Colorado has a vast variety of festivals available for anyone. Here are some of the more popular festivals of 2017 to attend.
Buskerfest – June 23–24, 2017

This festival takes place in Denver Union Station's fantastic public plaza and will celebrate a tradition of live street art and performance in The Mile High City. Attendees of all ages are welcome to come watch street musicians, fire performers, musicians, face painters, hula-hoopers, jugglers and others.
Cherry Blossom Festival – June 24–25, 2017

Japanese culture and heritage are showcased at the annual Cherry Blossom Festival. Dance, taiko drums and martial arts are featured on the outdoor stage, while inside the Denver Buddhist Temple you'll find food sales and exhibits.
Sand in the City – June 24th and 25th, 2017

Arvada Chamber of Commerce's 5th Annual Sand in the City Festival is Colorado's premier beach party, expected to attract 15,000+ visitors this year. See giant sand sculptures, enjoy local food & artisan vendors, a Kids Zone with buried treasure, live music, craft beer, and more!
Denver Taco Festival – June 24th and 25th, 2017

The Denver Taco Festival features Denver's best local music, dancing, tequila and margaritas. But really, It's all about the TACOS. The festival showcase some the best independent food trucks, taco specialists and restaurants in Colorado, Lucha Libre Wrestling, High Speed Daredevil Chihuahua Racing and more!
Steamboat Opening Weekend and Adventure Zone – June 30

Steamboat Resort will open for summer base area operations June 30 with the Coca-Cola Adventure Zone's new summer activities, including the 18-hole Maverick Mini-Golf course, urban ropes course and summer tubing. Other activities opening June 30 include the Wild West Bounce House, Slingshot Bungee Trampoline and WaterWalkerz. Visit www.steamboat.com for a full list of summer activities.
Colorado Dragon Boat Festival – July 29–30, 2017

Founded in 2001 to celebrate Colorado's Asian Pacific American (APA) culture, the Colorado Dragon Boat Festival has become the region's fastest growing fun, family-friendly summer festival. Named "Top Annual Festival" by the Rocky Mountain News and a "Best of Denver" event by Westword, it offers festival-goers the opportunity to explore APA customs through performances, arts and crafts, shopping, dining and the exciting athletic competition of dragon boat racing.
Colorado Renaissance Festival – Saturdays & Sundays June & July, 2017

The Colorado Renaissance Festival is a thematic recreation of a 16th Century village and marketplace set in the picturesque mountain venue of "Larkspurshire", just south of Denver. Hundreds of colorfully costumed characters entertain continuously upon the village streets and on the Festivals 10 stages, performing 60 shows daily.
Crested Butte Wildflower Festival – July 7th – July 16th, 2017

The Crested Butte Wildflower Festival began in 1986 through the efforts of a few insightful Crested Butte locals who envisioned a wildflower celebration in one of the most picturesque valleys in Colorado. The Festival has grown into a summer-long season with over 300 events offered by over 60 instructors, tour guides and volunteers. Events include hikes and walks, jeep tours, garden tours, and workshops in photography, art, gardening, cooking, medicinal and botany.
Arise – August 4th – 6th, 2017

ARISE is a music, yoga, activism and co-creative camping festival. This year's lineup includes: Atmosphere, Tipper, Lettuce, Beats Antique, Ani DiFranco, SunSquabi, Rising Appalachia, Brother Ali, The Expendables, Dirtwire, Desert Dwellers and Late Night Radio, and many more.
Lafayette Peach Festival – August 19th, 2017

The Lafayette Peach Festival, presented by Lafayette Chamber of Commerce, centers around world-famous all natural Palisade, Colorado peaches. Enjoy peach pies, peach cobbler and peach smoothies. Food vendors, crafters, antique dealers along with some of the finest artists from the Front Range and Western States will be showcased. Children's activities, live entertainment and music throughout the day.
A Taste of Colorado – Sept. 1–4, 2017

A Taste of Colorado is the end-of-summer celebration of community pride and spirit in the Denver region. Over 500,000 people make the four-day festival their Labor Day Weekend celebration, enjoying the offerings of more 50 area restaurants, 275 marketplace artisans and vendors, six stages, and educational programs promoting the diverse cultural and western heritage of the region.
Whatever your interests may be, the summers in Colorado are full of popular and exciting festivals that will keep everyone in the family entertained.
Check out our blog for more tips or contact us for advice:
Windermere Metro Denver Real Estate