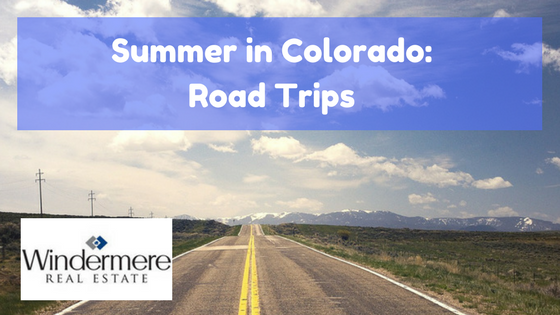 Road trips are just as much a part of summer as ice cream and days at the pool. If you live in Colorado, you don't have to leave the state to experience this tradition. Colorado's amazing vistas, magical scenery and stunning stretches of the Rocky Mountains make this state the ultimate touring dream for car drivers from around the world. Roadside amenities also abound providing incredible recreation opportunities and a chance to see some really amazing sites. Here are 5 great road trips to try out this summer.
Boulder to Rocky Mountain National Park – 75 miles, 4-5 hours
In Estes Park, crash at the Georgian-style Stanley Hotel, which dates back to 1909. Be sure to take the $15 guided tour to learn about how the property played a critical role in Stephen King's creation of "The Shining."
Start the journey in Boulder, known as one of the quirkiest cities in the West. There's always some sort of cultural activity going on. Day 2 in Estes be sure to get out of the car and explore Rocky Mountain National Park. The most popular hike here is the 14-mile round-trip climb to the top of 14,259-foot Longs Peak. This is not for the laid back hiker, though as you must leave at 3 a.m. to be off the mountain by the time thunderstorms move in later in the day. As an alternative, head out MacGregor Avenue toward McGraw Ranch for an easy 3-mile round-trip hike that follows Cow Creek to Bridal Veil Falls.
Trinidad to La Veta – 110 miles, 6-7 hours
Dating back to 1876, the 17-room La Veta Inn mixes history with comfort in kick-back, Old-West style.
For a look at local archaeology, visit the Louden-Henritze Archeology Museum in Trinidad. The museum has artifacts from nearby Trinchera Cave. For information about more modern times, check out the Santa Fe Trail Museum and some of the city's historic homes. Later, on State Route 12 at Cucharas Pass, look for incredible views of the Sangre de Cristo Mountains and the Great Dikes, yellow-colored rock walls that were formed by volcanic forces inside the Earth more than 400 million years ago. In La Veta, check out the adobe buildings of Fort Francisco, which dates back to 1863 and today boasts a museum with artifacts from the 1700s.
End the day of learning with a homemade cinnamon roll at the Ryus Avenue Bakery, the only bake shop in La Veta.
Mesa Verde to Hovenweep – 480 miles, 3-4 days
Saddle up and spend a while at the Circle K Ranch in Dolores. The ranch offers comfortable accommodations and horseback-riding equal quintessential Old-West relaxation.
Begin this archaeological adventure at Mesa Verde National Park, home to 5,000 known archaeological sites, including 600 dwellings carved into the cliffs. The best-known rock home is Cliff Palace, a 150-room site with an estimated community of more than 100 Anasazi residents. From here, head south on 160 toward the Ute Mountain Ute Indian Reservation, where members of the tribe provide guided tours through ruins located inside Ute Mountain Tribal Park. Finally, just east of the Utah border, Hovenweep National Monument protects 6 Pueblo-era villages with stone towers that have stood for more than 1,000 years. Four of these villages are in Colorado, 2 are in Utah.
Palisade to Eckert – 200 miles, 2-3 days
Start your trip along I-70 in Palisade and head west. Along the way, sample sweet wines from Carlson Vineyards, one of the oldest wineries in the state. Winemaker Parker Carlson also makes wine from local fruit such as peach and cherry. On Day 2, in Olathe, visit Cottonwood Cellars, then double-back to Delta to explore the Gunnison Valley. For a different kind of tasting, visit the Peak Spirits Distillery in Hotchkiss to try organic gin. Before heading home, stop in Eckert at Surface Creek Winery, which makes full-bodied merlot and features an impressive gallery of watercolor paintings from artist Dale Russell Smith
If a road trip sounds appealing, check out some of the great sights and exploration opportunities listed above.
Check out our blog for more tips or contact us for advice:
Windermere Metro Denver Real Estate