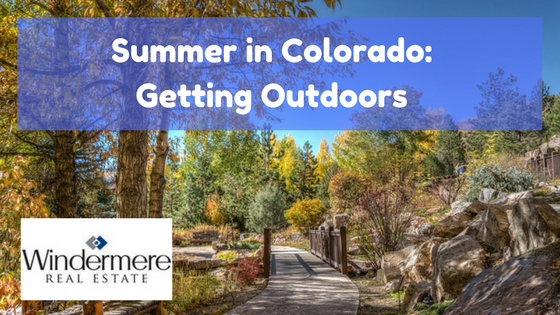 Summers in Colorado can be just as adventurous as the winters. So what is there to do when the days are longer and warmer in the centennial state? The options range from going on a local brewery tour to climbing one of the 53 fourteeners in the state.
If music is your passion, then be sure to check out Red Rocks Amphitheatre's summer concert series. There are also numerous music festivals offered all summer long throughout the state – the musical options range from underground music, country, classical, bluegrass, classic rock, and even rocky grass.
Colorado is well known for its numerous and beautiful ski resorts. What happens when the snow melts and the ski slopes close? The ski towns and resorts transform to welcome the summer crowd. There are mountain bike trails available for the biking enthusiasts, white water rafting and ziplining options for those wanting a little heart pounding adventure. Looking for something a little tamer?   Aspen and Snowmass offers outdoor yoga, and Copper Mountain keeps its chairlifts operational for those looking to take in a truly scenic view.
Want to see the abundant Colorado wildlife and natural scenes up close and personal? With 41 state parks, 22 million acres of national forests, and hundreds of private campgrounds, there are numerous places to spend the night under the stars. With over 60 different ecological systems throughout the state, each night can be different – mountains or rolling prairies are all have campgrounds available for visiting. Check out Camp Colorado to find a campground and make reservations.
Spending time in nature contributes to the overall mental and physical well-being for everyone in the family. In support of this, Colorado's Governor John Hickenlooper has unveiled the Colorado Trial Explorer – an online interactive map showing more than 39,000 miles of every hiking, biking, and multi-use trail in the entire state. These trails cut through wildflower meadows, colorful canyons, and even gorgeous waterfalls.
Looking for more of a challenge than a hike? Why not try your hand at a fourteener – Colorado has 53 mountains over 14,000 feet. There are many lists online that include the best beginner 14ers (if you are just starting), the more difficult ones (if you are looking for an enjoyable challenge) and the various gear you will need to bring for each type. Be sure to keep safety in mind before you head out – pack everything recommended, check on weather conditions, and make sure to let someone know where you are expecting to be.
For the novice or experienced birder, Colorado summers offer a chance to spot a wide variety of birds. Check out the Colorado Birding Trail for guides by region on the best birding sites in the state. This non-consumptive outdoor recreation allows anyone, no matter age or physical fitness, to get outside and observe Colorado nature.
If you are interested in the 200 plus breweries in Colorado, there is a plethora of festivals and tours available to check out. In addition to breweries, there are at least 20 different wineries and vineyard in Colorado's wine country. Be sure to check out the schedule for local festivals featuring the various beers and wines from around the state. In addition, there are tours available from many of the breweries and vineyards.
Whether you are looking for a great musical experience, a wild adventure in the mountains, or a relaxing outdoor experience, summers in Colorado can satisfy a wide range of interests.
Check out our blog for more tips or contact us for advice:
Windermere Metro Denver Real Estate