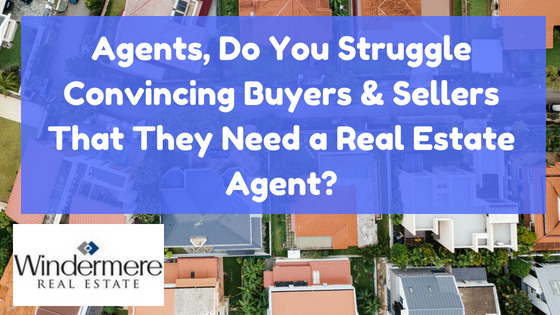 In today's market, it can be difficult convincing potential buyers and sellers that they need a real estate professional. Some people, for various reasons, don't trust agents. And with websites like Trulia and Zillow rising in popularity, many people feel like they can handle things on their own.
What they don't realize is that representing yourself can lead to liability, lost money, and wasted time.
Here's how you persuade them to turn to you when the time comes:
You Understand The Paperwork
Let's face it – even for a seasoned professional, all the paperwork involved in a real estate transaction can be intimidating.
But for someone who's never dealt with it before? Forget about it.
The list of required forms varies from state-to-state, plus it can change at any time with the introduction of new laws. It's a lot for a novice to keep track of.
Next time you run into someone who's on the fence, ask them if they know what to look for in an inspection response, or how to customize a contract. Chances are, they do not – and they could use your help.
You Know How The Market
Is there anything worse than trying to sell a house and having it sit on the market for months (or longer)?
For the seller who is waiting to move, it can be a truly stressful experience.
Unfortunately, if they're not familiar with the market, it can be difficult to move the house. Even worse, they may not get a fair price: in 2017, the typical FSBO home sold for $190,000 compared to $249,000 for agent-assisted home sales.
As a seasoned professional, you know the market and what people are looking for. You know how to set the right price, how to advertise, and which features to highlight. And, you know how to make the whole thing run smoothly.
You Come With Backup
Unfortunately, the world of real estate is rife with potential hardships.
From the seller who tries to hide a leaky roof, to the buyer who backs out at the very last minute, you don't know what might happen.
As a real estate professional, you can recognize many potential issues and handle them before they ever even become a problem. And if they do become a problem, you have a wealth of resources at your disposal.
Lawyers, inspectors, contractors, insurance agents – even if they're not a part of your team, you know them. And you can get an expert opinion on a moment's notice.
Final Thoughts
Bottom line: most people wouldn't even consider buying a used car without the advice of an expert. So why would they buy (or sell) a home without one?
Real estate transactions are some of the most important decisions a person will ever make in their life, and there's a lot on the line. There are too many potential pitfalls and problems to tackle on your own without any experience.
Sure, the Average Joe might do "ok" when trying to purchase or sell their own home – but you'll do great. Why? Because you know what it takes.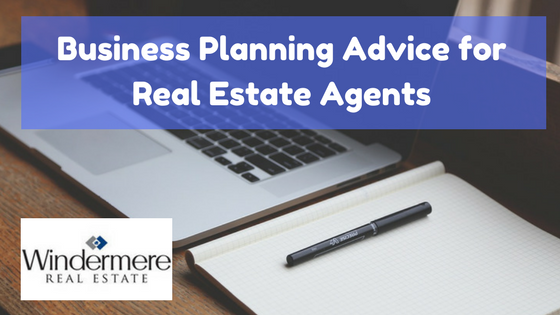 Your business plan is the GPS for your career. It's the path that will lead you to success, and one you shouldn't ignore. Knowing the steps to take when business planning can make all the difference in the outcome. These tips will help ensure that you are on your way to success.
Develop Attainable Goals
You should figure out your personal, business, and financial goals.
Personal Goals
Personal goals will cover where you want to improve, things or events you want to save up for, something you want to try, etc.
Business Goals
A business goal can be something as simple as becoming a better public speaker or as complicated as building a detailed marketing plan with email automation and getting in depth with social media advertising. Education and development also falls under this umbrella. You should always be learning something about your business.
Financial Goals
You'll need to know your current lifestyle and living expenses. Then figure out how much you budget for advertising and other business expenses. A basic list includes email marketing software, desk fees, commission splits and transaction fees, printing costs, Facebook advertising, website and landing pages, NAR dues, and more.
Next, you'll want to set aside a lead generation and nurturing budget. Email marketing and automation is a great place to start. Will you use postcards, door hanger campaigns, billboards, or sites like Realtor.com? Whatever you decide, make sure you take those costs into account as well.
Financial Plan to Action Plan
Once you have your expenses, it's time to develop a realistic financial plan. Take your total expenses for the year and divide by twelve. This gives you the amount you need per month to maintain your lifestyle. You need to determine how many deals you must close to reach that monthly goal. Let's say you require 26 deals a year to break even. That's one close every two weeks. If you have variable expenses, add one or two more closes to compensate. This is the point where you determine if you're being overly ambitious.
Now that you know how many you'll have to close, it's time to figure out the number of leads you'll need to generate per week. Consider the idea that it will take 30 warm leads to generate one close. Cold leads, those who are months away from purchasing a home, may take even more. In our example, we would need 15-30 warm leads or 40-60 cold leads per week.
Now it's time to create action steps. What will you do every week to ensure you gain new leads? It's time to figure out how you stand apart in your area. You want three to five action items per day. Engagement on social media, cold calls, and creating automated sequences for your mailing list are just some ideas to get you started.
Once you have a warm lead, it's up to you to convert them into clients and close deals. It's a good idea to know your competition, average sales and rental prices in the area, local demographics, and more.
Adapt
Remember that your business plan is a living document that adapts with you. As your business grows, it's normal to shift strategies, reevaluate goals, and make changes to your plan.
Keep your business plan close at hand and go over it every quarter to ensure you maintain your goals.