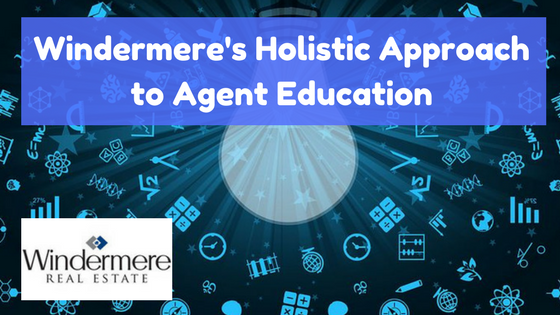 For over 40 years, Windermere has been putting relationships before sales quotas. Part of that is our unwavering support of our sales team. Our community of real estate professionals is our greatest asset. They are the reason we can offer better service than anyone else in the market, and we aim to keep it that way. We strive to not only hire the best people but to give them the best tools – from innovation and technology to professional development.
At Windermere, we take a holistic approach to agent education. What does that mean? Providing them with systems and tools proven to increase profitability, making them industry experts, and teaching them to give the type of service a client expects. With onsite live-learning workshops, online training, and weekly coaching right in the office, we make sure all bases are covered.
Some of our Professional Development courses include:
Get Your License:
For those considering a career change, our pre-licensing course offers everything needed to complete training, take the state exam, and get licensed. Our revolutionary approach to learning makes it easy to succeed. Other benefits include:
Age of content – We frequently update our material, offering only the most innovative ideas and learning approaches
Online forum – delivers content in an engaging and interactive way, on your schedule
Education methods – we use the latest in adult learning science to develop a revolutionary experience
Pass rates – we pride ourselves on having one of the highest pass rates in the industry
Money back guarantee – pass your state exam or get your money back, guaranteed
Continuing Education:
Whether you're just starting out, or you're a seasoned pro, we endeavor to help you meet your goals at every step of your career. At Windermere, we have something to meet everyone's needs, whether you prefer working in the classroom or online. CE courses are available for every state, with topics including everything from CORE training to client engagement. In addition, we believe that part of great success is giving back. So, with every purchase you make, we donate a backpack of food to help feed a hungry child in your community.
Ninja Installation:
If you're looking for a life-changing course, this is it! In just four days, you will receive a plan and process for creating a sustainable business that thrives in every market. Our strategies are derived from the researched and documented methodologies of the nation's top real estate agents. The Ninja process has been shown to increase agent profitability by 35.87% ahead of the market!​
Content includes:
Creating an effective marketing plan
Building your database
Working with sellers
Working with buyers
Evaluating property
Negotiating
#GetSocialSmart:
Through a partnership with Windermere, our agents receive a 30% discount on Katie Lance's nationally recognized program. This social media program, tailored to meet the needs of real estate agents, has helped hundreds improve their business. Benefits include access to an extensive online library, a private Facebook group where you can get advice from other members, and live monthly Q&A sessions.
Our programs reflect our commitment to providing our agents with the best training in the industry. It is because of them that we are able to provide our buyers and sellers with an unprecedented level of service, seldom seen elsewhere.