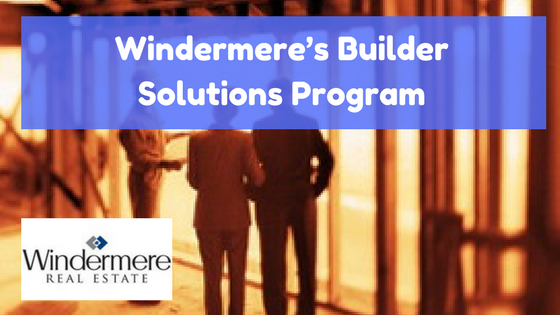 At Windermere, we take great pride in the service and support we provide to our sales agents. Through many conversations with our team at Windermere East, it became clear that we needed to focus more on builder services. A number of them had spent their entire career focusing on new home sales but felt that they needed a little more reinforcement. Our solution? We created an entirely new division.
Our Builder Solutions program brings deep sophistication and builder expertise together. For our sales team, it serves as a foundation, allowing them to provide outstanding support to our builder partners. For our partners, it offers professional marketing, sales, and operational support through all stages of new home sales.
How do we do this?
We have the best sales manual in the country.
We can safely say that our sales training manual blows all the rest out of the water. Ours is the only sales manual to come out in the last 5 – 6 years, and it's based on the most up-to-date consumer patterns. To create it, we brought together leaders from various national builder companies and merged and purged the best tools they had to offer. The manual is delivered through a web portal, so training can be conducted onsite wherever you are.
We find ways the agents themselves can drive onsite traffic.
Sales agents spend a lot of time sitting around in the office – that's a fact. We figured out how to convert that downtime into traffic-driving activity. Our Sales Associate Marketing Initiative (SAMI) gives agents activities they can do onsite to help drive traffic. This not only helps the bottom line, but it gives agents a sense of empowerment by influencing their own performance with minimal time invested.
We increase conversion through our NHS Ops Cycle.
This series of reports, including an asset 180, competition studies, a SWOT analysis, and more, is delivered by the sales agent once a quarter. 
We run a top-tier online training portal.
Our training portal, New Home Connect, allows all materials to be delivered in person by an agent or online for your convenience. Available courses include POS training, demonstrating product, creating emotional connections, on-target marketing training, driving traffic and much more.
WBS is a proven solution. In one case study, New Home Stars received a 31% increase in performance after introducing the program. We give builders many of the benefits of an in-house sales team, but with the added value that comes from partnering with one of the largest regional real estate companies in the nation. The results benefit both builders and buyers of newly constructed homes.
With more than 7,000 agents who operate in markets throughout the Western U.S. and Mexico, Windermere knows your market. We draw upon the expertise of these local agents while providing them with state-of-the-art new home sales tools and resources. The result is hyper-focused attention on new home sales combined with a local presence across all the markets where our builder-clients do business.
Contact us today to find out how we can help you.