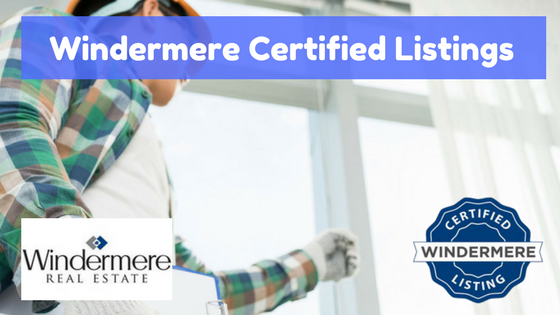 Windermere Certified Listings is a one-of-a-kind, customer-focused real estate program. Our mission is to provide superior service to all our clients throughout the selling process. This truly unique system was designed to reduce the uncertainty and friction that commonly occur during a typical real estate transaction, making it rewarding, predictable, and enjoyable. Throughout the process, both our home sellers and the end buyers feel unmatched confidence and peace of mind.
Our thorough 10-step process includes the following:
A 5-Point Pre-Inspection of the Major Components of the Home – Our exhaustive process helps assure the buyer that there are no major surprises in store and gives the seller an opportunity to correct issues before the house goes to market. Inspection points include:
Roof – general conditions, skylight, and flashings
Exterior – general conditions of siding, sealants, grade and drainage
Mechanical – furnace, air-conditioner, water heater and water main shut-off
Electrical – main distribution panels and sub-panels
Structural – trusses, joists and foundation
Professional Home Cleaning Package – Every home is completed by a professional team of two or more house cleaners. The detailed process includes:
Cleansing of most surfaces
Floors vacuumed, scrubbed, and mopped
Bathrooms cleaned including tubs, sinks, and toilets
Home staging (in select regions) to eliminate clutter, rearrange furniture to enhance flow, and create a notable first impression.
Professional Real Estate Photography Package
Our professional photographers will provide you with vivid and beautiful images designed to sell your home faster. Professional real estate photography is proven to increase showings and lead to speedier sales. Each photo passes through over 25 enhancement and processing steps to correct lens distortion, white balance, perspective, and saturation. No other company combines art and real estate in this way!
Top-notch marketing is a necessity in today's fast-paced, technology driven world of real estate. The National Association of Realtors found that 75% of people start their home-buying search online – that's why in addition to traditional methods, we include a solid real estate internet marketing plan as part of your overall strategy. Our multi-level, multi-platform real estate marketing plan leaves our sellers assured that their property is receiving the best advertising possible. Examples include:
Professionally installed sign
Expertly designed and printed property brochure
Social media marketing
Virtual tour for buyers to view online
Open house marketing in local venues
… and much more!
Selling a home can be stressful. Let Windermere save you time and energy by handling all the worrying details. With us on your side, you can sell with confidence knowing that everything has been taken care of.
Contact us today to find out how we can help you.