We're in the thick of autumn now, with Thanksgiving just days away. That means it's time to start considering how to best showcase your home before the guests arrive.
One of the cheeriest bits of fall is the shifting colors that bring a canopy of rustic hues to a walk through the neighborhood. You can bring that cozy feeling inside yourself with some golden-dipped creativity.
Gilded Pears – Use real or fake pears, whichever you prefer, spray paint gold, and allow them to dry completely. You can add little flags to the top if you're really feeling crafty.
Magnolia Wreath – Collect some Magnolia branches and use a wreath frame as a base. Spray paint the green side of each leaf with gold and then assemble using wire. It's not as complicated as it looks!
Dipped Pinecones  – First, you'll want to make sure your cones are clean and dry. Apply gold leaf adhesive using a foam brush; deciding how much you add will determine how much of the cone is covered in gold. After they dry, consider gold leafing the cone's scales. Wrap it around the cone and use a clean foam brush to rub it into the adhesive. Then give it a light spray with sealant and allow them to dry.
Gold Acorns – Hand pick your acorns, clean, and oven-dry them to make sure they are pest free. Paint them gold and then add a layer of clear shellac for a shiny look. Lastly, you'll want to use a hot glue gun to attach the caps since they naturally fall off after the acorns dry. You can use these as filler in a glass vase or simply scatter them on a tabletop.
Shimmering Maple Garland – All you'll need is a bag of artificial leaves, bought at any craft store, some Elmer's glue, glitter, and string. Use a paintbrush to apply glue to each leaf and sprinkle lots of glitter over them. Let the glue set, then shake off the excess glitter, punch a hole at the top and attach a ribbon. Tie them all to a large strand and voilà, a perfect garland for the holidays.
Petite Pumpkins – If you are still head over heels for pumpkins, then using small ones for place cards will add some spice to your table. Tape each pumpkin halfway with painters tape, choose a design with horizontal, diagonal, or however you want! Next paint the bottom portion with gold craft paint (may require multiple layers) and with the last layer still wet, generously sprinkle gold glitter over the painted half. After your pumpkin is dry and you've shaken off the excess glitter, wrap beading foil tightly around the stem. Leave a little extra at the end for you to bend for your place card.
Find these and more decor ideas on our Pinterest Board, "A Gold Thanksgiving."
Posted on November 27, 2019 at 7:35 pm
Metro Denver Office
Category:

Blog, Living
Tagged

decor, DIY decor, DIY Thanksgiving, DIY Thanksgiving decor, gold, gold decor, gold thanksgiving, pinterest, Thanksgiving, Thanksgiving decor
Photo by MyDomaine 
At the end of a long day, your bedroom should be a sanctuary of comfort that welcomes you in. But, as a room that guests rarely see and in which homeowners spend most of their time with their eyes closed, its upkeep frequently gets pushed to the bottom of the to-do list. Thankfully, there are some little design tricks that can make a big difference. Turn your bedroom into a restful retreat when you up its coziness factor with a few of these easy ideas.
Layer textures. Sheepskin rugs, a down comforter, plush pillows, and knit blankets can add a softness to the room that will make you want to sink right in. Lift these textures upward, with a canopy, tufted headboard, billowy curtains and hanging textiles (like a weaving) so even the walls and ceiling feel snuggly.
Pick the right paint. Dark, saturated colors make a room feel like it's embracing you, which is ideal for setting a sleepy environment. But if you're nervous to commit to a dark color on the wall, choose a pale dusty blue, sage green or another light natural color for a soothing tone (just steer clear of energetic hues). Have you ever wanted to sleep on a cloud? Go with all-white paint and decor which makes even a basic bedroom feel soft and spa-like.
Personalize it with reminders of the places and things that make you feel at home. Do you have a fondness for flowers? Bring floral patterns in on your textiles. Do you dream of vacation at the lake? Frame a photo of your favorite spot! Photos or paintings of uncluttered natural landscapes—like a sunset reflecting on water or a hammock under the shade of an oak—can rekindle memories of relaxation and are perfect for creating a sense of calm.
Add mood lighting. Soften the light to mimic dusk for an intimate mood with dimmer switches, lamps, lanterns or even string lights. Just make sure you can reach the switch from bed, so you don't have to disturb your peace to get up and turn it off when you're ready to roll over and fall asleep.
Skip metallic finishes. Choose warm natural decor options like wood and fabric instead of cold, manufactured metallics. This goes for everything from your bedroom furniture to window treatments. Faux wood blinds, especially when paired with floating curtains, fit with a cozy aesthetic and let you filter out harsh sunlight and maintain privacy for a truly sheltered slumber.
Bring on the books! Stacks of good reads invite you to snuggle in and get lost in another world. A true retreat is a room with plenty of books that begs you to stay.
Fix up—or fake—a fireplace. If your bed sits hearthside, embrace this romantic accent with styled logs and a decorated mantle. If you don't have such a luxury, create a faux fireplace to add comfort and warmth through your décor: Arrange oversized candles and lanterns safely within a homemade hearth to bring in that cozy fireside feeling without changing the structure of your home.
Keep the room uncluttered. When you want to settle in, a mess distracts you from finding comfort, to minimize the amount of stuff that makes it to your bedroom. Watch your nightstand, which often becomes a catch-all, by making a point to rehome any wandering wares now, and put things away as soon as they enter the room in the future. If you're apt to let laundry pile up, keep it behind the closed doors of your closet so it doesn't crowd your peace.
Create a sense of timelessness. Tuck clocks and electronics away so they're nearby if you need them, but their wires and harsh silhouettes aren't reminding you of life outside your sanctuary. The hush that falls in a room devoid of gadgets will allow you to easily disengage from the stresses of reality.
Rethink your bedding. Add a pillow-top pad to your mattress so it feels like your bed is hugging you when you climb in. Or, bring in a contoured body pillow which actually can hug you! Linen sheets feel luxe compared to cotton and are a simple swap to boost your bower. Many people also swear by skipping the top sheet while dressing their beds, which allows them to burrow directly into a fluffy comforter.
Appeal to your sense of smell. Aromatherapy can have a huge impact on your perception of a space, so find some soothing essential oils or a sweet candle to blanket the room with an ambiance you adore. As soon as you open the door, you'll be eager to plunge into your little oasis.
Nestle into nooks. A window seat, a reading nook or an upholstered seating area are all inviting spaces that can draw you in from the doorway. The more intimate alcoves you can create, the cozier your bedroom will feel!
Flooded with soft lighting, plush textures, and other comfy touches, your bedroom environment will envelop you at day's end. And, perhaps even better than the idea of your bedroom refresh itself, is knowing that none of these tips take longer than a weekend to complete! So, slide into your slippers as you settle on which cozy updates you'll select for your new favorite room of the house.
Posted on August 7, 2019 at 7:17 pm
Metro Denver Office
Category:

Buyers & Sellers, Housing Trends
Tagged

bedding, Bedroom decor, comfort, decor, Interior Decor, interior design, light paint, lighting, personalize, textures, uncluttered
Posted in Living by Kenady Swan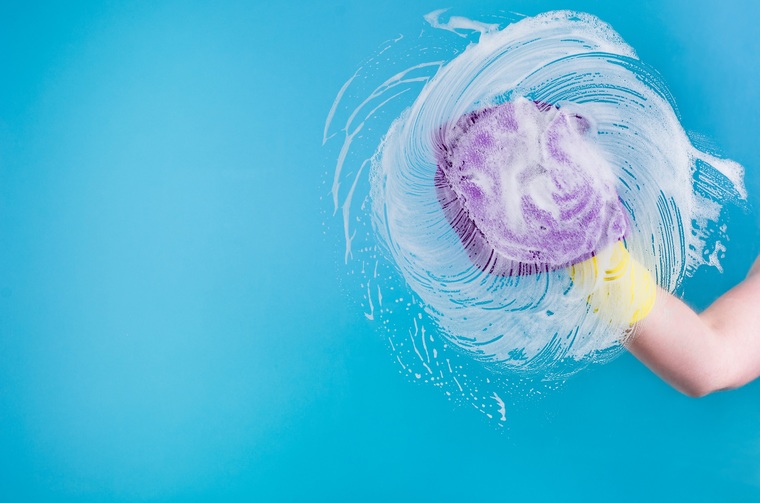 Now that spring has sprung, let's clear the cobwebs and get your home ready! Here is our quick guide to spring home maintenance:
Inspection top to bottom: Now that the weather is temperate you will want to check on how your home weathered the winter. Check the roof for leaks, the gutters for damage, and the siding for cracks. You will also want to inspect your basement or foundation for any shifts. Make repairs now to prevent further damage.
Clean out the gutters: April showers bring May flowers… so clear out the gutters to keep rain from pooling on your roof or near your foundation.
Pest control: Spring is mating season for eight-legged critters, so sweep out cobwebs, clear debris, and check the nooks and crannies. If you live in an area prone to dangerous species like brown recluse or black widows, you may want to contact your local pest control, but otherwise, household spiders do help eliminate other bugs.
HVAC system: If you have an air conditioner now is the time to check to make sure it is ready before summer gets here and everyone else is clamoring for maintenance. Now is a good time to check your home air filters and replace or upgrade to keep allergens at bay.
Clear the clutter: Do a sweep around the house and get rid of junk that you don't use! Take a little time each week to tackle a room. Closets, playrooms, and basements can be especially daunting, but getting rid of old stuff and refreshing your space will go a long way!
Deep clean: On a nice day open the windows, dust, wipe, scrub, and clean. You will get a nice workout and your home will look and feel so fresh after a winter of being cooped up.
Update your décor: Add a splash of color to your home with small embellishments. Add a colorful vase, a lighter throw for your sofa, pretty pastel pillows, or spring-time candles, to upgrade your living space.
Take it outdoors: Let your throw rugs, curtains, and other tapestries air our outside. Shake off the dust, spot clean what you can and let everything bask in the sun for an afternoon.
Don't forget the back yard: It may not be time to start up the grill, yet, but you can get started on your outdoor entertaining checklist. Check your lawn, and if you have some spare spots start filling in with seed. Check your outdoor plants, prune, plant bulbs, start to replenish the soil for your garden, and mow, so you are ready to start when the season allows.
Speaking of the grill – if you have a gas grill you will want to pull this out and perform a maintenance check. Clean everything up and check to make sure all the gas lines are clear, as these can get clogged after sitting idle all winter. Make sure the grill is clear of spiders too, as they can build webs in the tubes, causing damage to your grill. You can start to bring out your garden furniture too, or clean it up if you left it covered outside all winter. Because before you know it, it'll be barbeque season!
Posted on June 24, 2019 at 7:29 pm
Metro Denver Office
Category:
Blog
Tagged

back yard, bright colors, clutter, decor, deep clean, gutters, home maintenance, HVAC, indoor, inspection, maintenance, outdoor, pest control, spring, yard