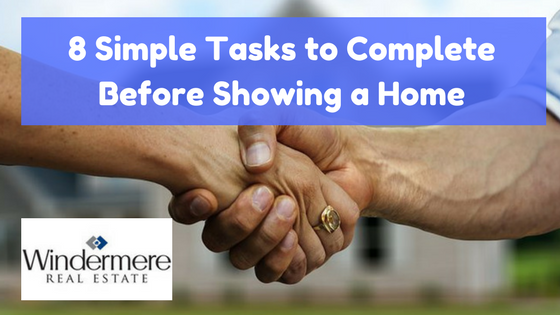 2018 selling season is upon us! If you have clients getting ready to put their home on the market, the list of to-dos can seem endless. You may wonder if it's all worth it, but the fact is, a well-cared-for house shows better. Plus, small issues like flaking paint or a dripping faucet can make buyers wonder what bigger problems await them down the road. Don't let easily-fixed issues derail your selling process.
Here is a list of 8 things you can do right now to ensure a great first impression:
Keep up yard maintenance
It can be tempting to ignore the lawn and walkways, especially if the client has already vacated the property, but this is the first thing a potential buyer will see. Grass, weeds, and overgrown shrubs can create a sloppy, unkempt appearance before the buyer even looks at the inside of the home. Keep things neat and tidy for a good impression up front.
Clean the gutters
Overflowing gutters can lead to cracked walls and damage to the foundation, in addition to just looking messy. The last thing you want a potential buyer to see is water pooling around the outside of the house, or worse – in the basement. Routinely check for leaves, pine needles and other debris that can lead to unsightly – and dangerous – leaks.
Service the heating/cooling system
If the HVAC system hasn't been used in a while, it can smell funky when you first turn it on, make frightening sounds, or just straight-up not work – none of which leave a great impression. Before showing a home, have the heating/cooling system serviced, clean the ductwork and filters, and make sure everything is in good working order.
In addition, if there is a working fireplace, take care of that at the same time. Clean the chimney to remove any dirt or debris, and block off the flue to avoid and unwanted houseguests (squirrels and bats just love to come in uninvited!).
Replace all the lightbulbs
This is one of those things that is so super simple to do but often overlooked. Imagine taking a client for a showing after dark, flipping on the switch in the master bedroom … and nothing. For a very minimal investment, all light bulbs in the house could be replaced and any embarrassing incidents avoided.
Wash the windows
Dirty windows and screens can be quite unappealing and leave a bad impression on anyone looking at your house. Cleaning all the windows, sills, and treatments will not only make the house look neat and tidy but will allow in the best possible natural light.
Fix up any interior cosmetic imperfections
Chipped paint, dents in the drywall, and scratches in hardwood are easily fixed but can make a poor impression. A buyer doesn't want to see a lot of little problems that they'll have to fix down the road. It is not only an inconvenience for them, but makes them wonder about what larger issues may lie hidden in the house.
Deep clean and declutter
The difference between showing a home that has been cleaned and staged and one that has not is night and day. Clean the floors, polish the furniture, put clean linens on the beds – and, most of all, make sure the kitchen and the bathrooms are immaculate. These two areas, more than anything else, are scrutinized by buyers, and they will judge. After all, would you want to bathe in a moldy tub?
Appearance is everything when it comes to selling a home, and with just a little time and effort, you can make sure you get the most out of every single listing.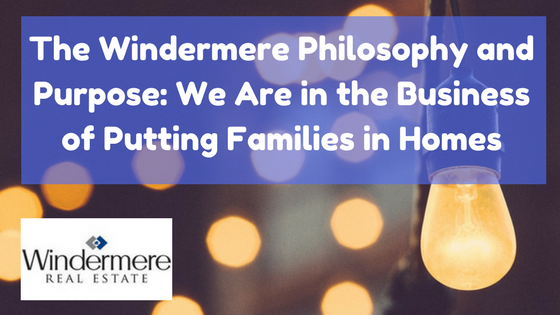 In 2016, over 560k people were homeless. Of those, 206k were families living in the streets. Youth and young adults make up 141k of those numbers. While there are emergency shelters, transitional housing, and safe havens that offer transitional assistance, there are very few organizations working to get families back in homes. We want to change that.
Since our first preparations for launch back in 1988, The Windermere Foundation wanted to expand our giving-back-to-the-community philosophy. We have developed a strong tradition of putting families back in homes. This mission aligns with our business purpose, and allows us to focus 100% of our efforts on those in need. Whether we are helping families who don't have a place to live, providing services to the children of those who are homeless, or helping homeless parents care for themselves and their family, our mission remains the same.
Our specific focus allows us to make a bigger impact. Concentrated giving provides a greater control of how money is spent within a program and project. The beautiful part of our Foundation is seeing immediate results of our efforts in both the community and among our ranks and contributors.
Our united giving program has received extensive media attention and financial support. Even better, we see the direct impact in our local community as people are given a second chance at stability.
Less than 5% of every dollar contributed to the foundation goes toward administration costs, paving the path to a more meaningful, results-driven impact.
We agree that there are many wonderful organizations and causes in need. While we wish we could help everyone, splitting our funds will take away from the capabilities of our organization. We champion this cause because it is near and dear to our hearts and, as a Real Estate company, this is something that aligns with our vision and purpose.
Putting families in homes is what we do. Whether it's using traditional methods, or through the Windermere Foundation, we are dedicated and driven to providing the best possible service.
The Windermere Foundation works well with Community Service Day events or office holiday giving programs. Our love of community is a personal touch that creates a powerful and lasting benefit. Your donations guarantee impact that you can see and guarantee that everyone wins.
We stand by our philosophy and are grateful to those who light the way to success. The homeless in America is not just a statistic. It's our community.
Check out our blog for more tips or contact us for advice:
Windermere Metro Denver Real Estate
Posted on February 13, 2017 at 5:06 am
Metro Denver Office
Category:
WMDRE Blog
Tagged

charity, community, families, giving back, home, homeowner, philosophy, purpose, real estate, Windermere