Posted in Selling by Kenady Swan 
Electing a full sale or a property management situation is a life-changing decision that shouldn't be taken lightly. In choosing whether or not becoming a landlord is right for you, there are a number of factors to consider, but primarily they fall into the following three categories: financial analysis, risk, and goals.
The financial analysis is probably the easiest of the three to perform.  You will need to assess if you can afford to rent your house. If you consider the likely rental rate, vacancy rate, maintenance, advertising, and management costs, you can arrive at a budget. It is important to both be detailed in your projections and to have enough reserves to cover cash-flow needs if you're wrong. The vacancy rate will be determined by the price at which you market the property.  Price too high and you're liable to be left vacant. Should you have applicants, they'll often be a group that for some reason couldn't compete for more competitively priced homes. Price too low and you don't achieve the revenue you should. If you want to try for the higher end of an expected range, understand that the cost may be a vacant month. Any way you slice it, it's difficult to make up for a vacant month.
Consider the other costs renting out your property could accrue. If you have a landscaped or large yard, you will likely need to hire a yard crew to manage the grounds. Other costs could increase when you rent your home, such as homeowner's insurance and taxes on your property. Depending on tenant turn-over, you may need to paint and deal with maintenance issues more regularly. Renting your home is a decision you need to make with all the financial information in front of you.
If your analysis points to some negative cash-flow, that doesn't necessarily mean renting is the wrong option. That answer needs to be weighed against the pros and cons of alternatives. For instance, how does that compare to marketing the property at the price that would actually sell? Moreover, you'll need to perform additional economic guesswork about what the future holds in terms of appreciation, inflation, etc. to arrive at an expectation of how long the cash drain would exist.
Risk is a bit harder to assess. It's crucial to understand that if you decide to lease out a home, you are going into business, and every business venture has risks. One of the most obvious ways of mitigating the risk is to hire a management company.  By hiring professionals, you decrease your risk and time spent managing the property (and tenants) yourself.  However, this increases the cost. As you reduce your risk of litigation, you increase your risk of negative cash-flow, and vice versa… it's a balancing act, and the risk cannot be eliminated; just managed and minimized.
In considering goals, what do you hope to achieve by renting your property? Are you planning on moving back to your home after a period of time? Will your property investment be a part of your long-term financial planning? Are you relocating or just hoping to wait to sell? These are all great reasons to consider renting your home.
Keep in mind that renting your family home can be emotional. Many homeowners love the unique feel of their homes. It is where their children were raised, and they care more about preserving that feel than maximizing revenue. That's ok, but it needs to be acknowledged and considered when establishing a correct price and preparing a cash flow analysis. Some owners are so attached to their homes that it may be better for them to "tear off the band-aid quickly" and sell. The alternative of slowly watching over the years as the property becomes an investment instead of a home to them may prove to be more painful than any financial benefit can offset.
Before reaching a conclusion, it's a good idea to familiarize yourself with the landlord-tenant-law specific to your state (and in some cases, separate relevant ordinances in the city and/or county that your property lies within) and to do some market research (i.e. tour other available similar rentals to see if your financial assumptions are in line with the reality of the competition across the street). If you are overwhelmed by this process, or will be living out of the region, seek counsel with a property management professional.  Gaining experience the hard way can be costly. With proper preparation, however, the rewards will be worth it.
Posted on July 15, 2019 at 5:32 pm
Metro Denver Office
Category:
Denver Real Estate Market
Tagged

buy a home, financial analysis, financing, home maintenance, homeowner, homeownership, landlord, maintenance, management professional, Own, Rent, tenant
Posted in Selling by Windermere Guest Author 
The following post was written by Kathryn Madison, a real estate broker out of the Windermere  Portland-Raleigh Hills office. You can learn more about Kathryn and read more insightful articles on her blog, GoBeyondtheOrdinary.com.
How do we transition from the mindset of a homeowner to a home seller?  Homes bring us shelter, comfort and are a place to express our individuality. But when it's time to move on, that same home will now be the financial springboard to the next chapter in our lives.
We start by letting go of the home layer by layer.
Both buyer and seller benefit when the seller- perhaps with some judicious coaching from their skilled Realtor- peels away those things that made their home uniquely theirs. In essence, the serious packing begins once the decision has been made to sell; bookcases and closets should only suggest their function with a few items, rather than store seasons and years worth of books and clothes. Carefully removing prized collections and family photos is also vital- nothing should distract the buyer from seeing the house, and seeing themselves in it.
Personal colors are just as important to remove as objects. After all, if you were serving ice cream to a few thousand people (that's how many will see your house photographed online)- would you serve them mango flavor? It's a lot more likely you would choose vanilla- and that's pretty much what the color of your walls should be- neutral or deep neutral tones.
The last touch is a good deep cleaning- ask your REALTORtm if they have the name of a reputable company.
The seller can then replace those familiar objects with a fresh new welcome mat at the front door.
This process allows the buyer the visual and emotional space to move in.
This process allows the seller to move on.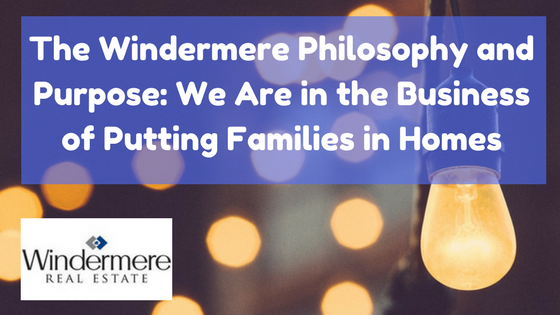 In 2016, over 560k people were homeless. Of those, 206k were families living in the streets. Youth and young adults make up 141k of those numbers. While there are emergency shelters, transitional housing, and safe havens that offer transitional assistance, there are very few organizations working to get families back in homes. We want to change that.
Since our first preparations for launch back in 1988, The Windermere Foundation wanted to expand our giving-back-to-the-community philosophy. We have developed a strong tradition of putting families back in homes. This mission aligns with our business purpose, and allows us to focus 100% of our efforts on those in need. Whether we are helping families who don't have a place to live, providing services to the children of those who are homeless, or helping homeless parents care for themselves and their family, our mission remains the same.
Our specific focus allows us to make a bigger impact. Concentrated giving provides a greater control of how money is spent within a program and project. The beautiful part of our Foundation is seeing immediate results of our efforts in both the community and among our ranks and contributors.
Our united giving program has received extensive media attention and financial support. Even better, we see the direct impact in our local community as people are given a second chance at stability.
Less than 5% of every dollar contributed to the foundation goes toward administration costs, paving the path to a more meaningful, results-driven impact.
We agree that there are many wonderful organizations and causes in need. While we wish we could help everyone, splitting our funds will take away from the capabilities of our organization. We champion this cause because it is near and dear to our hearts and, as a Real Estate company, this is something that aligns with our vision and purpose.
Putting families in homes is what we do. Whether it's using traditional methods, or through the Windermere Foundation, we are dedicated and driven to providing the best possible service.
The Windermere Foundation works well with Community Service Day events or office holiday giving programs. Our love of community is a personal touch that creates a powerful and lasting benefit. Your donations guarantee impact that you can see and guarantee that everyone wins.
We stand by our philosophy and are grateful to those who light the way to success. The homeless in America is not just a statistic. It's our community.
Check out our blog for more tips or contact us for advice:
Windermere Metro Denver Real Estate
Posted on February 13, 2017 at 5:06 am
Metro Denver Office
Category:
WMDRE Blog
Tagged

charity, community, families, giving back, home, homeowner, philosophy, purpose, real estate, Windermere